See on Scoop.it – Politics and Business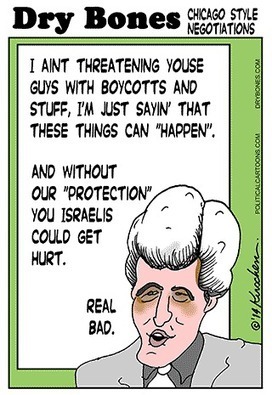 "Kerry's agreement mentions a Palestinian state with borders based on the 1949 Armistice lines and with land swaps between Israel and the PA. 75 to 80 percent of the Jewish residents of Judea and S…
Dave Cottrell's insight:
A well done article that cites sources inline.
"Netanyahu is walking on egg shells in even considering this "agreement." It could easily tear apart his coalition. Already, tension within the Israeli political community has been ratcheting upward for at least a week upon this writing.
On the other hand, if Netanyahu says no to the plan, then European nations could invoke a boycott on Israeli goods to "punish" Israel for not agreeing to the Obama/Kerry plan. Yes. This IS the same Europe where anti-Semitism runs rampant — even today."
See on www.maggiesnotebook.com